Creating Bathrooms to Perfection Throughout East Sussex
Creating a peaceful haven within your own home is a great way to escape from the stresses of daily life. Your bathroom can serve as a serene retreat, allowing you to unwind and let go of your worries at the end of a long day.
We understand the importance of creating a bathroom space that reflects your unique style and provides the comfort you deserve. Our team of skilled interior designers will work with you to create a bespoke design that incorporates both modern and traditional elements to achieve the desired result. We offer a wide range of products at competitive prices, keeping in mind that financial constraints can be a significant concern for many of our clients.
Creating Custom-made Bathroom Designs For East Sussex
At Pier1 Bathrooms, we aim to go above and beyond every customer's expectations. Our primary goal is to provide a remarkable experience for each individual, right from the beginning until the end. We recognise the significance of integrating each element and idea meticulously to create bathrooms that are unlike any other. By establishing clear communication with our clients and giving attention to every detail throughout the project, we ensure that the final result closely resembles or exactly matches their initial vision. We prioritise understanding our customers' perspectives and ensuring they feel comfortable throughout the entire process.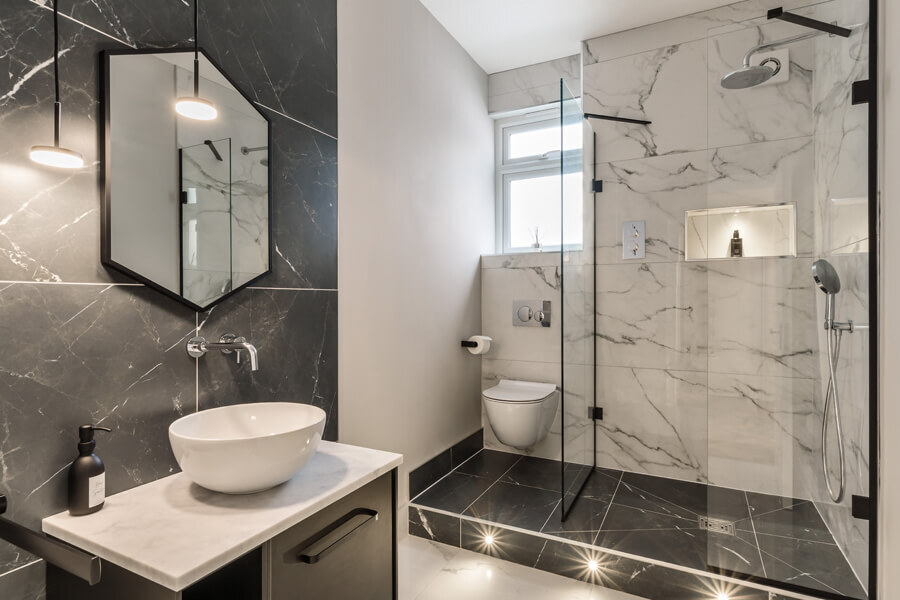 Visit our Bathroom Showroom in East Sussex
Revamp your bathroom with Pier1 Bathrooms. Our extensive range blends modern and classic designs to create a serene sanctuary. We offer a wide selection of products, including shower fixtures, baths, sinks, faucets, designer tiles, vanities, and decorative pieces to enhance your bathroom's beauty. Explore our unbeatable showroom selection today to find products that suit your taste and budget.
Our knowledgeable team is fully aware of the significance of your bathroom reflecting your desired look and feel. To ensure that you achieve the ideal outcome, we are prepared to assist you in selecting the ideal products that match your vision, encompassing everything from the style and colour choices to the perfect finishing touches.
Our showroom is the ultimate destination if you're seeking a lavishly designed and distinctive bathroom. You'll be able to peruse the most current and innovative designs and trends, featuring an array of exquisite vanity units, standalone baths of all shapes and sizes, and much more. Our skilled design specialists are on hand to help you discover the perfect blend of fixtures and accessories to bring your dream vision to life, whether you're aiming for a chic classic or ultra-minimalist look. When it comes to creating a stunning bathroom, our showroom is an excellent place to explore all possibilities.
Contact Our Bathroom Design Team In East Sussex
Don't hesitate to reach out to our team and share your ideas with us. We'd be thrilled to explore what we can do for you and kick things off with a complimentary consultation over a cup of coffee!
To find out more about our recommended installers email us at: info@pier1bathrooms.com or give us a call: 01273 713185
Get in touch with us below