It can be difficult to create a functional space that still looks luxurious in a small bathroom. However, with a few creative tips, you can make your bathroom appear and feel wider, transforming it into the elegant, practical, and relaxing space you've always wished for.
Design is a massively important factor when it comes to creating a new bathroom, or any room in your house in fact! It can be the difference between having a spacious and clean environment or one that feels cluttered and small. The difference between loving your space and hating it. These 10 tips have been carefully put together so that you are able to start thinking about your bathroom design in a new light and understand the changes you can make today to start loving your bathroom space even more!
Small bathrooms can appear gloomy. Natural light brightens the area and expands the space, making it appear wider. You can incorporate a skylight if you only have a small window to bring additional natural light into the room
Your bathroom will appear cluttered if you use a lot of different colours and patterns while also making the room appear smaller. By using a light, consistent colour across the room, you can open it up and create the illusion that it is larger and brighter than it originally is. Which leads to bathroom designs in all-white never go out of fashion. They too have the added benefit of making the space appear larger due to the fact that white reflects light better than any other colour. Because the majority of bathroom fixtures are white, the area appears to be more cohesive and undivided.
3. The fewer items you have on display in your bathroom, the bigger it will appear and the more functional it will be. By generating additional space, this will instantly make your area appear and feel larger. Cutting down on clutter is one of the quickest changes you can make to your bathroom where you will be able to see an instant result!
4. Covering the floor with a vanity or storage bins can make the room feel cramped, not to mention hazardous. Installing floating storage can help keep everything you need within reaching distance.
5. Some of the best small bathroom ideas are around maximising storage space. If your shower is cramped, consider adding a shower niche to your design.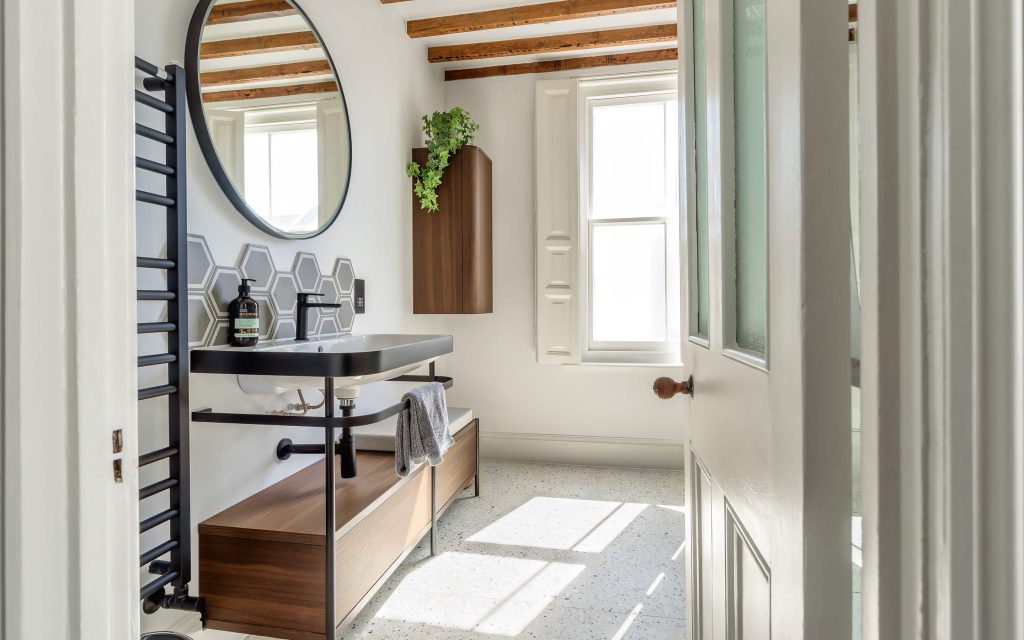 6. With a curved sink or shower, you can reclaim some of your space. It may not appear to be much, but it may make a big difference, especially in a small environment where every inch counts.
7. When it comes to bathroom storage options, wall fixtures are typically required, so why not double up with a mirrored wall cabinet to keep the space looking refined? You can obtain the storage depth by tucking them into the wall, yet the mirror does not visibly invade the room.
8. Less is more. If you want the space to look bigger than it originally is, you must let the room breathe. This means the removal of multiple large decorative pieces such as artwork and big plants. Although these do make the bathroom feel homely and inviting, they do take up a considerable amount of space and can lead to too much clutter.
9. It's a dream to have a separate shower and a bathtub however having both in such a confined space is just not feasible. That's why opting for a bathroom shower combo is a great choice with the bonus of having both options and saving space. It can be great idea to consider when designing your new bathroom since it is a very practical choice.
10. Using big sized tiles on both the walls and the floor, particularly in a marble effect or pastel colours, will significantly lighten and brighten the room. The finished result will look spacious, modern and easy to clean. Not only will this produce a continuous effect, but it will also give the room a much-desired luxury hotel look.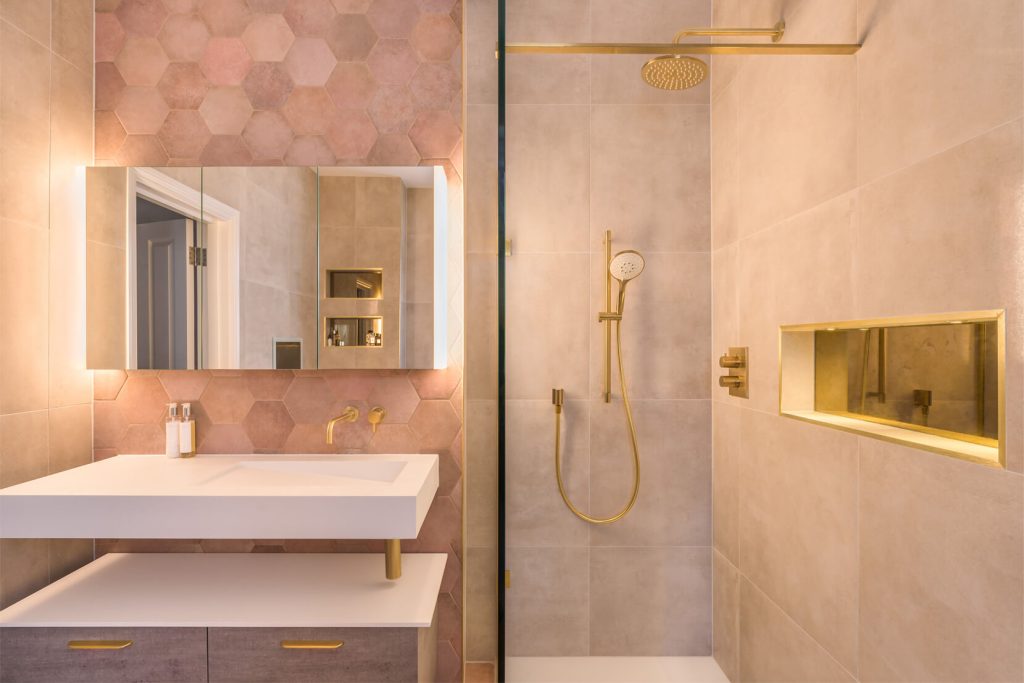 That is our 10 design tips for making your bathroom feel and look more spacious! Whether you are looking to redesign your bathroom completely or are wanting to just make a few small changes we hope that you have found something in our list that will make it possible for you to start loving your new bathroom space since it is essential for your health and wellbeing.
Design is powerful and can have a serious impact on your mental wellbeing. It is important that you have a space which feels like a sanctuary, one where you can go and have a clear mind, relax and unwind and a space that you use daily, such as a bathroom, is the perfect place to start your journey into designing with purpose and designing to create something beautiful.