Meet Our Award Winning Team
Pier1's Award Winning Team
Established in 2019, Pier1 Bathrooms brings the world of high-end luxury bathroom design to Brighton & Hove, and beyond. We make bathrooms our sole focus so that we can provide the specialist service and expertise required to create bathrooms that will truly inspire and impress.
We understand that planning a new bathroom can be a significant investment combined with a desire for the finer things in life. Come and visit our flagship showroom in Hove, it is just a short drive from Haywards Heath, Worthing and surrounding towns in East Sussex. It will give you a first-hand idea of the quality of products we supply and their exceptional finish. Our team of expert bathroom specialists offer a complete end-to-end service in delivering your dream bespoke bathroom.
Pier1 Bathrooms supply, design and install the finest quality bathroom products from leading and emerging suppliers in the industry. Whatever the type and size of your project, we can deliver the perfect bathroom to complement your home and lifestyle.
Steph took over directorship of Pier1 from her husband Angus in 2022. A psychologist by profession, Steph has spent the past 12 years working as an academic researching the features of high performing teams in the context of surgical care. Now committing her time and energy to the family business, Steph believes strongly that a thriving business is built on a happy and healthy workforce, and places huge value on the simple but fundamental qualities of good communication, shared decision making and teamwork. She can be found in the showroom every weekday interacting with customers and bouncing ideas around with the tight-knit team at Pier1. She takes great pride in her award-winning team and the quality of customer service they deliver and likes to understand the detail and progress of each and every project, regardless of scope. In her spare time, when she's not busy with her young children, Steph maintains her academic interests and can often be found with her head in a book!
Rosie has a real flair for design, which is evident in her growing portfolio of amazing bathrooms. She has been recognised for her design acumen through having three bathroom design projects published in the Ideal Home Magazine this year.
Her keen eye for colours, textures and styles allows her to work harmoniously with her clients and offer solutions for all their individual requirements. Rosie is also very experienced in the installation process, understanding the importance of getting the technical specifications right for a seamless fit.
In her spare time, Rosie enjoys keeping fit at the gym, painting and upholstery.
Lilly started her design journey with five years of experience as a visual merchandiser for high-end retail brands. She then continued on to study Interior Design followed by two years of designing fully bespoke kitchens securing a KBB Design Award in the process. With a love of all things design, she has now joined the world of bathrooms, using her project management skills and technical details from kitchens.
Her biggest joy is creating those one-off kind spaces for adventurous clients.
She loves to travel in her spare time and draws design inspiration from all over the world.
Leanne
Head of Operations
In her previous role in financial services, Leanne grew a wide-ranging skill set over-seeing and coordinating operations across a vast company with multiple assets, ensuring adequate controls and procedures were in place. She brings this skill-set to our small team to ensure our processes and procedures run smoothly and efficiently across the entire customer journey, from ordering products to managing delivery schedules and logistical issues. Her eye for detail and astute organisation skills provide a reassuring support for the entire team and ensure our after-care service meets the exceptional standard we have become known for. Since joining the company we have discovered that Leanne also has a secret talent and eye for design! As a result, she is often the sounding board for the design team and takes charge of dressing and updating the showroom.
Emily has over 12 years of accounts experience, the majority of which working in the construction industry. She is also responsible for product ordering and ensuring that everything arrives on time for projects to commence.
Emily has an eye for detail; is methodical and organised; and is an invaluable cog in the Pier1 team.
As a professional runner, when she's not in the showroom, she can usually be found running along the seafront in Brighton and Hove!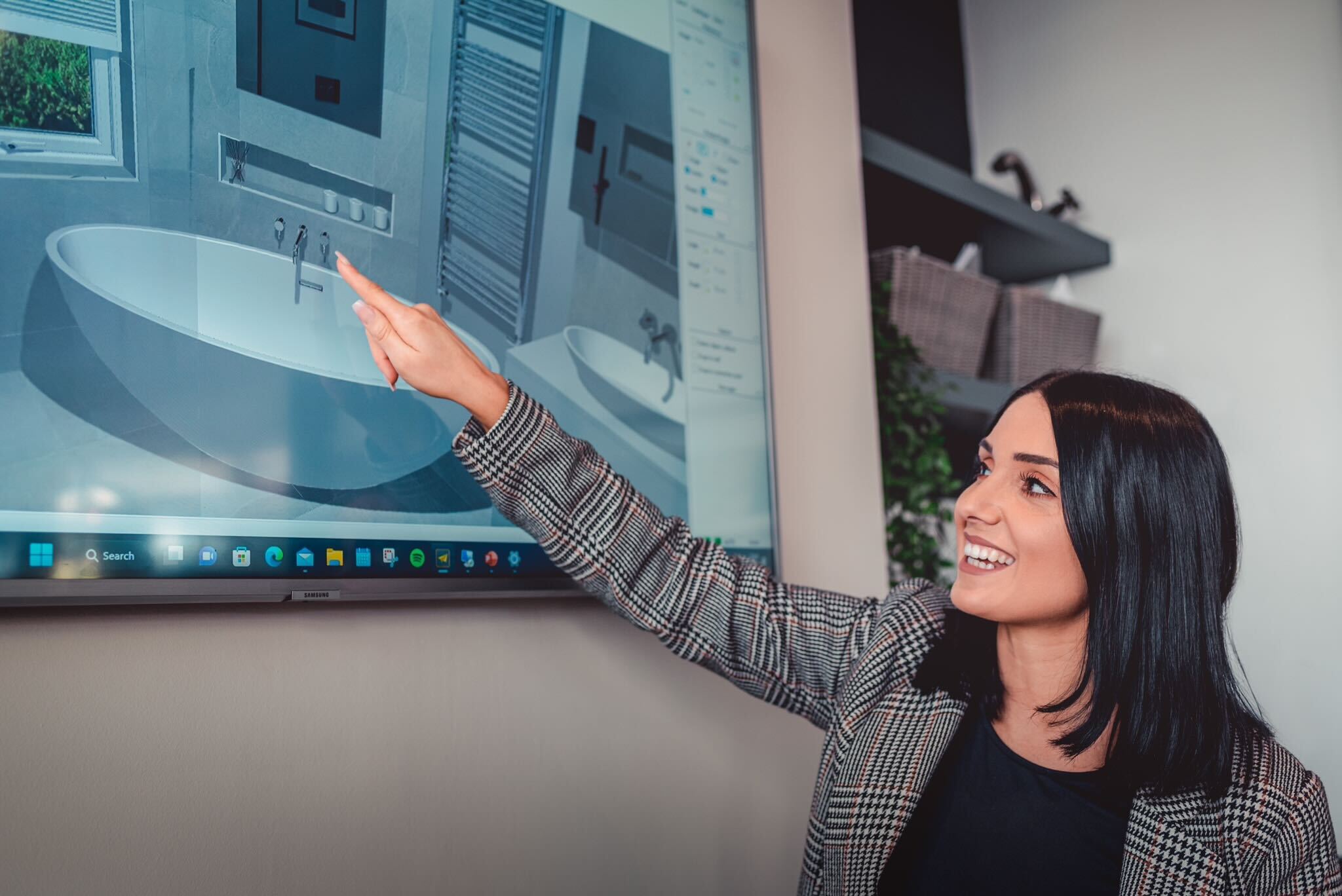 Be inspired – relax, revive, replenish and refresh with our stunning bathroom ideas
A room that's so often over-looked, we firmly believe that every bathroom, no matter how big or small, or how practical it needs to be, can be transformed into a space where you find the sanctuary and serenity you crave, adding a touch of luxury to the start and end of your day. Peruse some of our bathroom ideas and inspiration for all styles and specifications, and visit our recent project page.
Get in touch with us below