Your bathroom should be a safe haven and a place you can relax and escape for a little while. Stepping into your bathroom is a great feeling after a long day, and it's those extra little touches that make all the difference!
Whether you're working on a new bathroom design or have already had one done, don't forget the importance of those small extra flourishes. There are a lot of ways you can add an extra-special touch to your bathroom, and we'll be sharing some of our favourites below.
Luxurious Lighting
Okay, everyone knows lighting is important; having a bath or shower by candlelight is unlikely to end well. But don't just stick for any old lampshade! Frosted shaded can add a touch of sophisticated elegance to any bathroom.
But if you want something modern, then why not go for something quirky or unusual? You could even get whole new lighting fitted like chrome ceiling lamp. If you want to go the extra mile, you could even go for cooler or brighter lightbulbs, depending on what style of bathroom you're after.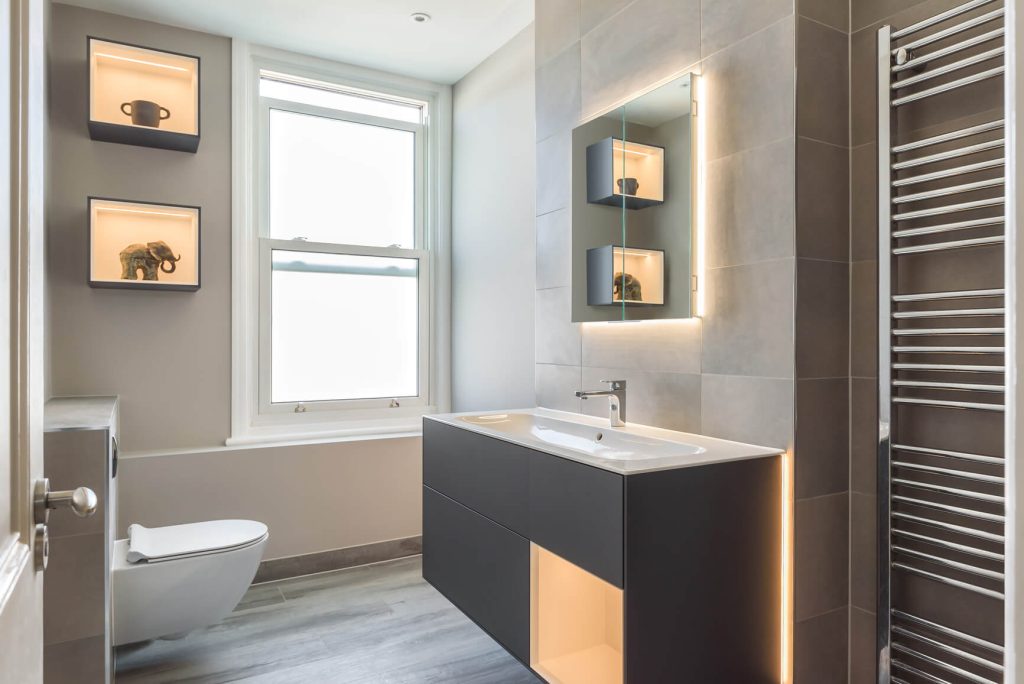 Magic Mirror
A bathroom should always have a mirror; we're pretty sure that is an unofficial law of home decor! A bathroom mirror isn't just practical; it is a great luxurious touch for any bathroom design.
A larger Rococo-style mirror would look amazing in a classic luxury bathroom. But you could opt for a modern mirror without a frame. A mirror can make a small bathroom look even bigger, wall-mounted mirrors usually work best, but a standing mirror can also work well if you have the room.
Fantastic Feature Wall
A feature wall might not be what you expect to see in a bathroom, but it can really work! We find it works best on the wall right on the side of your bathtub, but you are free to experiment. Waterproof wallpaper works best and can even add some texture to the wall.
However, you can just as easily use paint to create a luxurious feature wall for your bathroom. If you are looking for a way to add a luxurious extra touch to your bathroom without doing a total repaint, a feature wall is an amazing option.
Terrific Taps and Stunning Showerheads
We've got a double for you in this tip! The main fixture in your bathroom will be your shower/ bathtub. You might even have both, and a great way to add some extra luxury to your bathroom is to focus on these.
Let's start with taps; many bathtubs have pretty boring tabs, so why not replace them? You can find a huge variety of different tap fixtures in all kinds of designs, and you can even use matching or contrasting taps on your bathroom sink too.
Now, if you are more of a show person, you can use the same advice to revitalise your shower as well! There is a range of different shower heads you could try. Want something refined and elegant? Or something more quirky or modern? There is a showerhead that can add a little luxury to any style of bathroom.
A Little Greenery
Despite all the water, a bathroom isn't often the best place for plants. However, you can easily add some luxury to a bathroom with some stylish artificial plants instead! There are many ways you can approach this too.
You could add some small potted plants to your bathroom counter or even a larger floor-standing one if you have the space. If you don't want an artificial plant, that one plant that does do well in bathrooms is the cactus. A small potted cactus can add a touch of colourful elegance to any bathroom. Just make sure you keep it out of easy reach!
So, that's five easy ways you can add a touch of luxury to your new bathroom design! So, if you're getting a little bored with your bathroom, why not give some of these little touches a try? You might be surprised how even small touches can have a big impact.